Beginners

BEGINNERS TUNES



By scrolling down you will find some beginners tunes.

On my "Monthly Tune" page there's much more, mostly advanced level.

This page has music notations, videos and mp3 : rightclick and use "save target as" if you like.

As you can see, I've used symbols for ornamentation.

My Whistle Basics method teaches how to play and use these ornaments : see "Shop".

These symbols are just a suggestion and show a possible way to play these tunes.


1 2 3 4 5 6 7 8 9 10 11 12

Single Ornaments Compound Ornaments


You can play these embellishments according to your level and taste.


Click this link to learn more : How to play the Irish Way

Use Windows Media Player to play a

Video or

MP3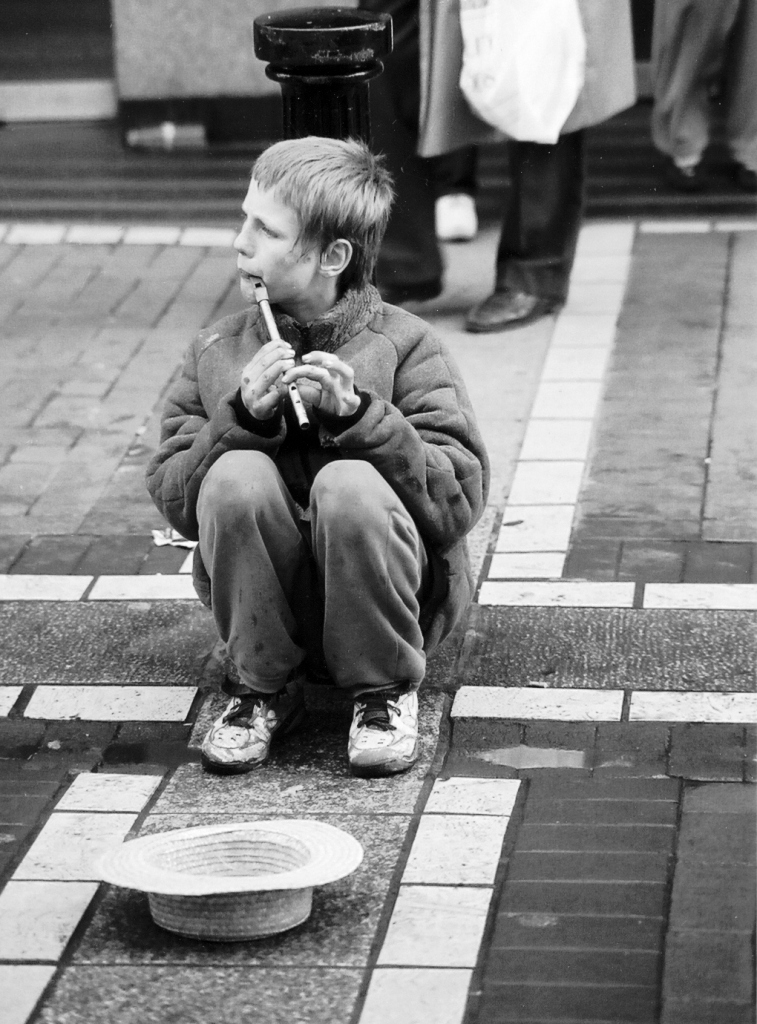 Penny whistling / Grafton Street Dublin






Video 1: The Rising of the Moon

Played with tonguing technique.

The use of tonguing technique is overdone here : it is meant as a practice.

In the next video (2) I only play with a constant stream of air ('slurring').

I just want you to experience the two extremes : only tonguing & only slurring.

Of course you need to create a kind of balance between these two ways of using your breath.

This is done in video 3.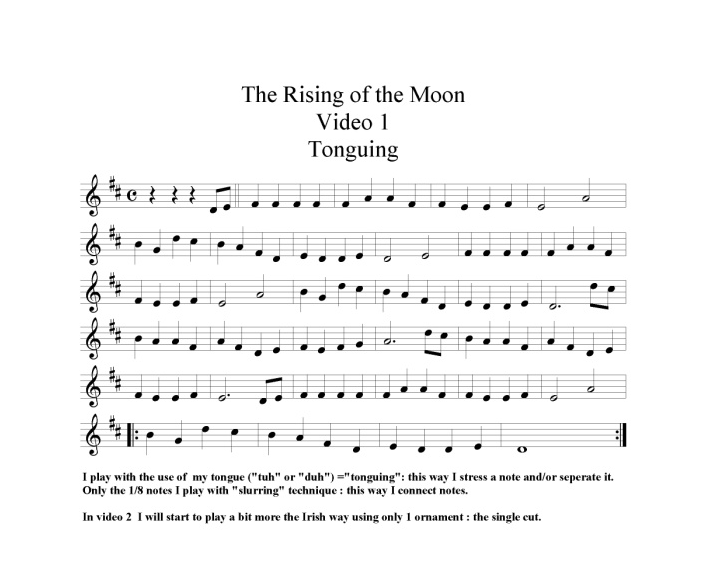 Video 2 : The Rising of the Moon

Played with single cuts and slurring



Video : How to play single Cuts D-major scale D - C# & C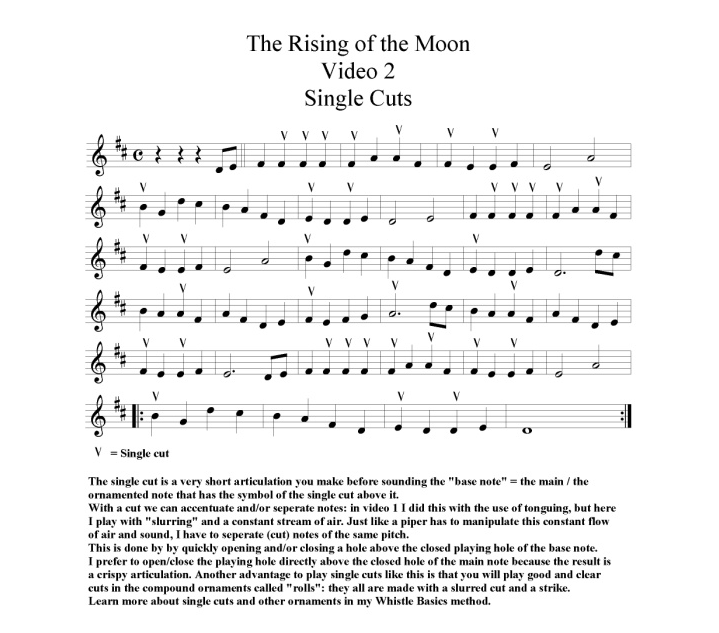 Video 3 : The Rising of the Moon

Played with single cuts and strikes and with a combination of tonguing and slurring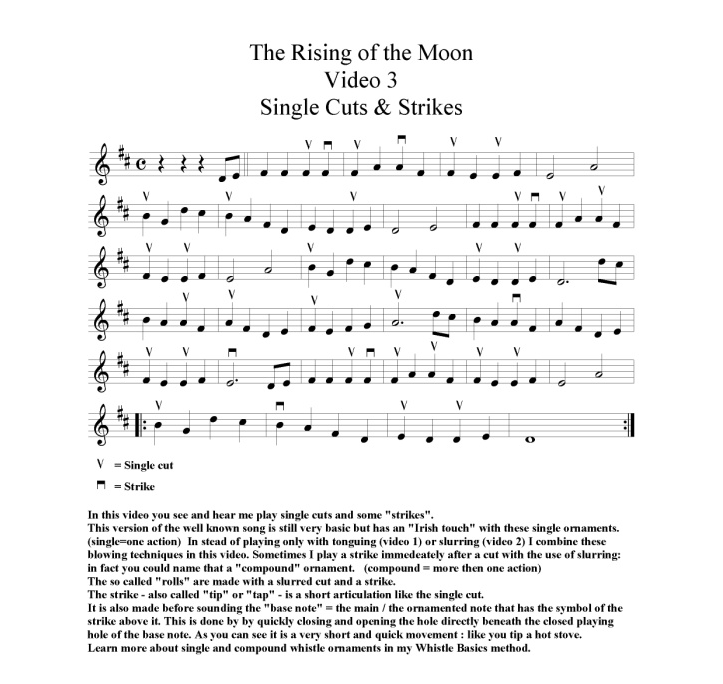 Mp3 : Siobh�n n� Dhuibhir = sung by Sean Nos class



Video : Siobh�n n� Dhuibhir played on whistle with single cuts/strikes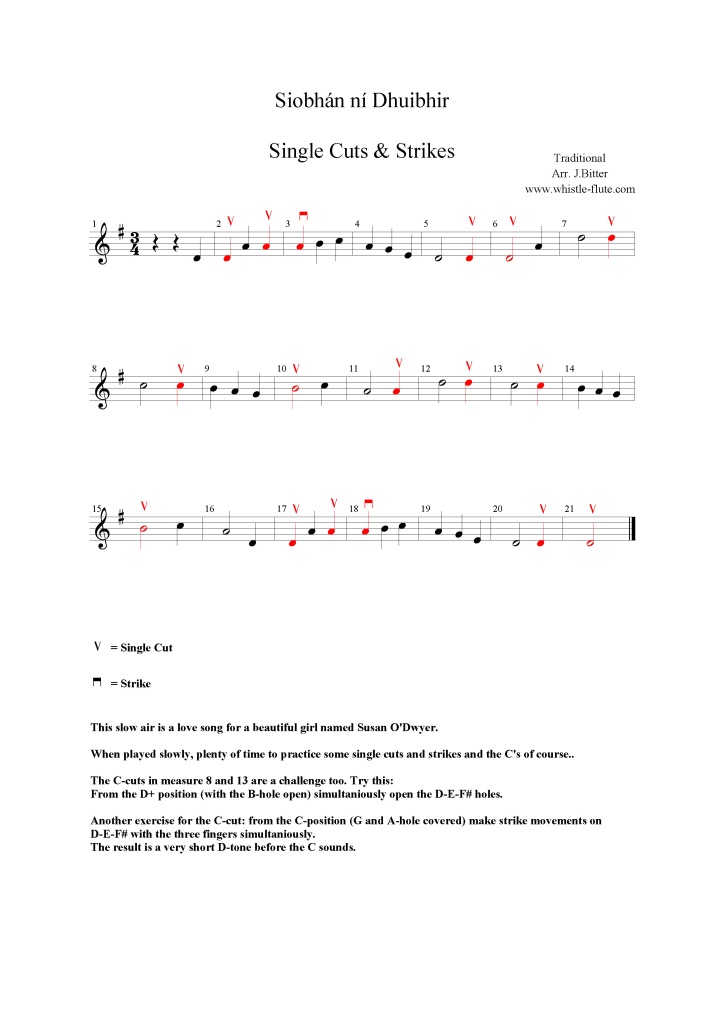 Video : The Foggy Dew 2x

If you like add some more single cuts : on one of the two beats in a measure.

Try to memorize this tune to be able to play it in a more intu�tive way.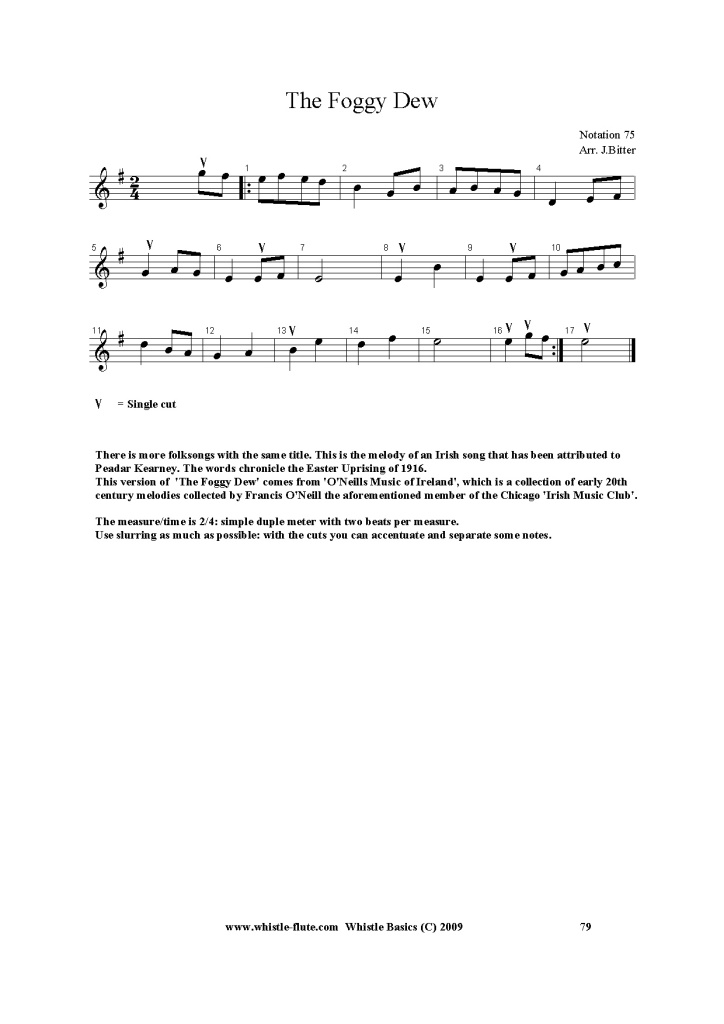 Video: The Star of the County Down

Again a simple version to practice a few single ornaments: single cut/strike/short slide
If you can't read music (yet) follow the numbers (playing holes) but the best and simplest way is:
look, listen and imitate.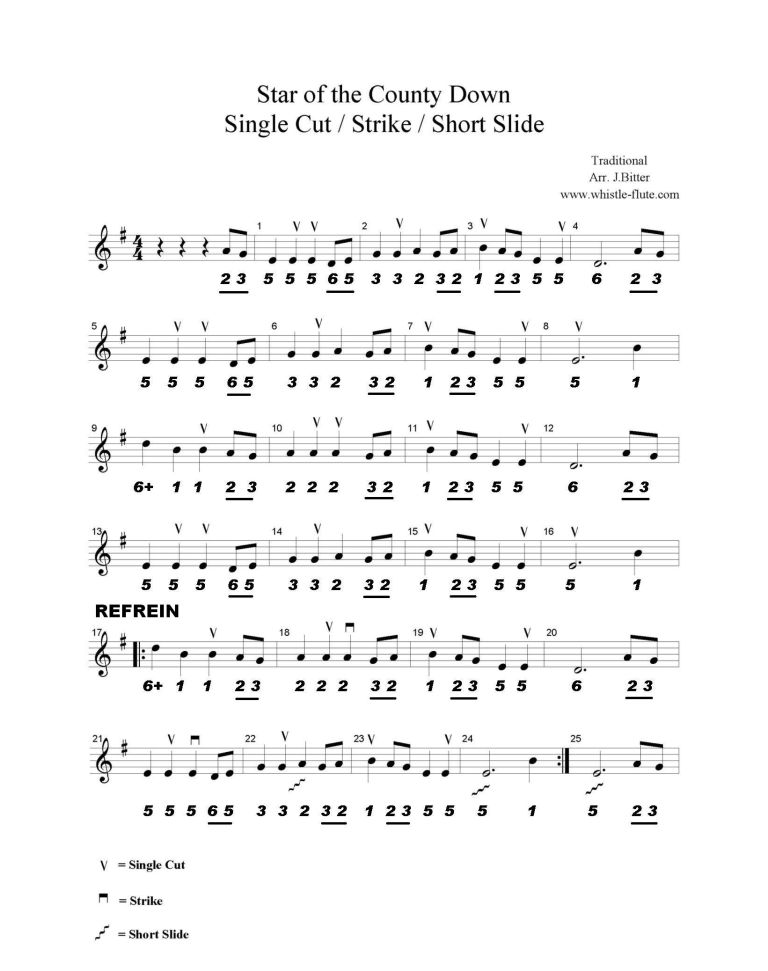 Video : Eleanor Plunkett 2x

The rising slide combined with (finger) vibrato is more or less advanced technique.

Vibrato is discussed in chapter 15 of my Whistle Basics method.

In this video I play without it.

Just try to imitate the cuts, strikes and rising slides.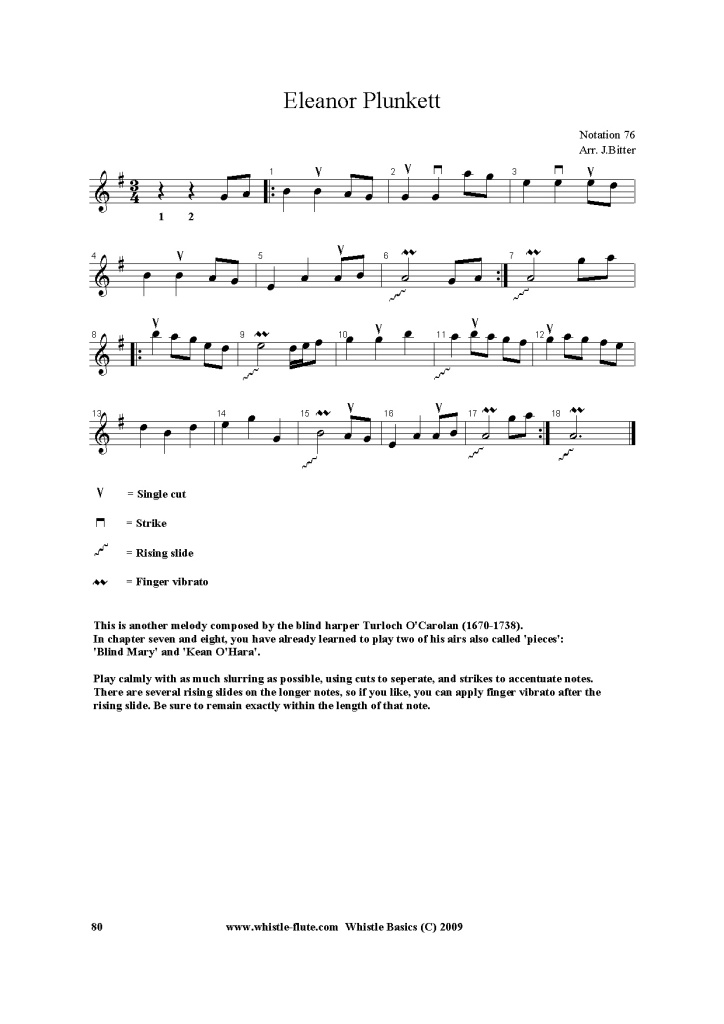 Video 1 : Lord Inchiquin AA : slow


Video 2 : Lord Inchiquin BB : slow




Video 3 : Lord Inchiquin 1x AABB : moderate


In video 1 & 2 I play all the ornaments except the (finger) vibrato.

In video 3 I use finger vibrato a few times : can you discover where?

Try to memorize the tune or a part of it and add/choose the ornaments you like.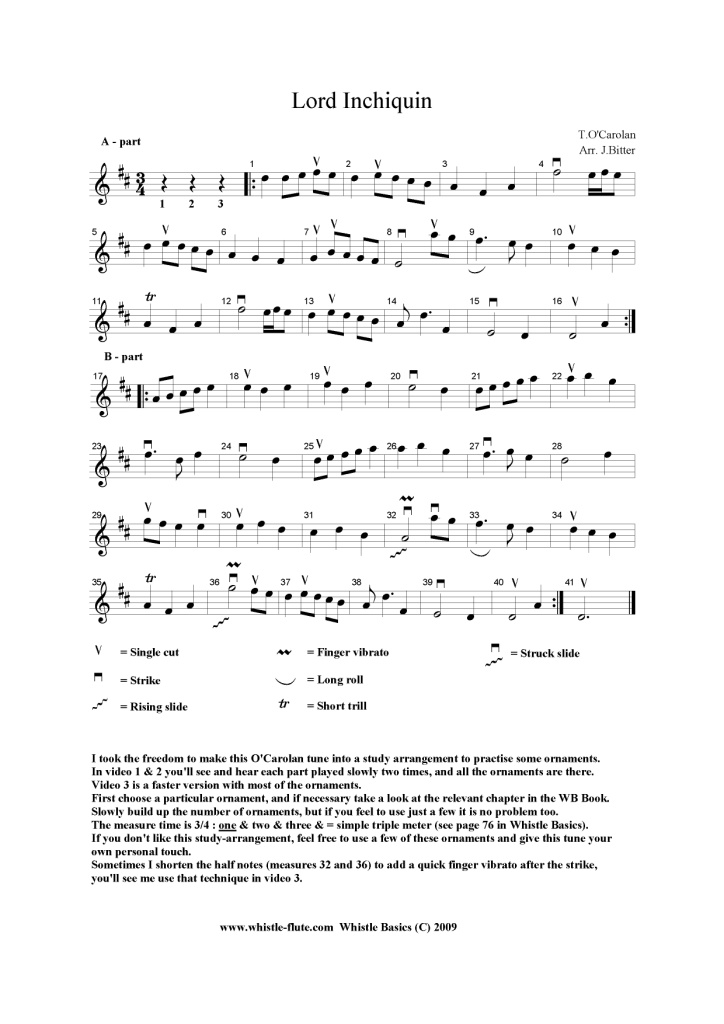 MP3 Kerry Polca Nr 3 : moderate



MP3 AA : moderate



MP3 BB : moderate


I have used track nr 51 from the CD "The Irish Beat Conductor"
You will hear a strong accent on the first beat of every measure.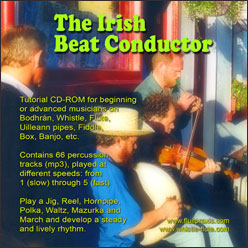 Click photo for info/demos

Slow down with your media player and try to hear and understand what is happening.

Then start to imitate, memorize and repeat adding some ornaments.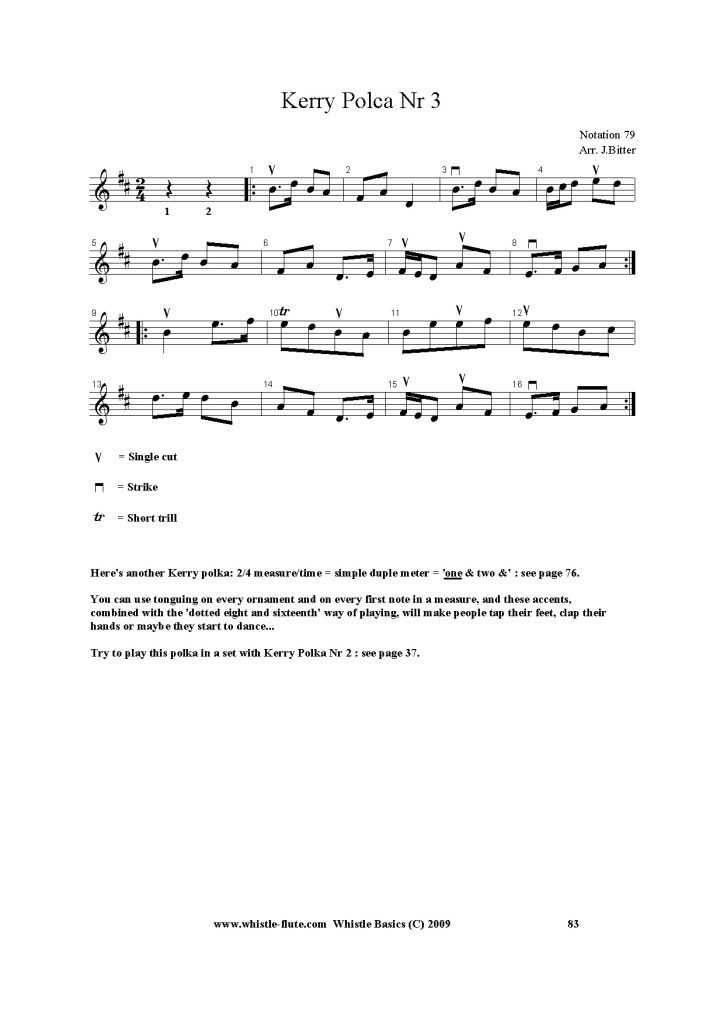 Video : The Fairies hornpipe AA



Video : The Fairies hornpipe BB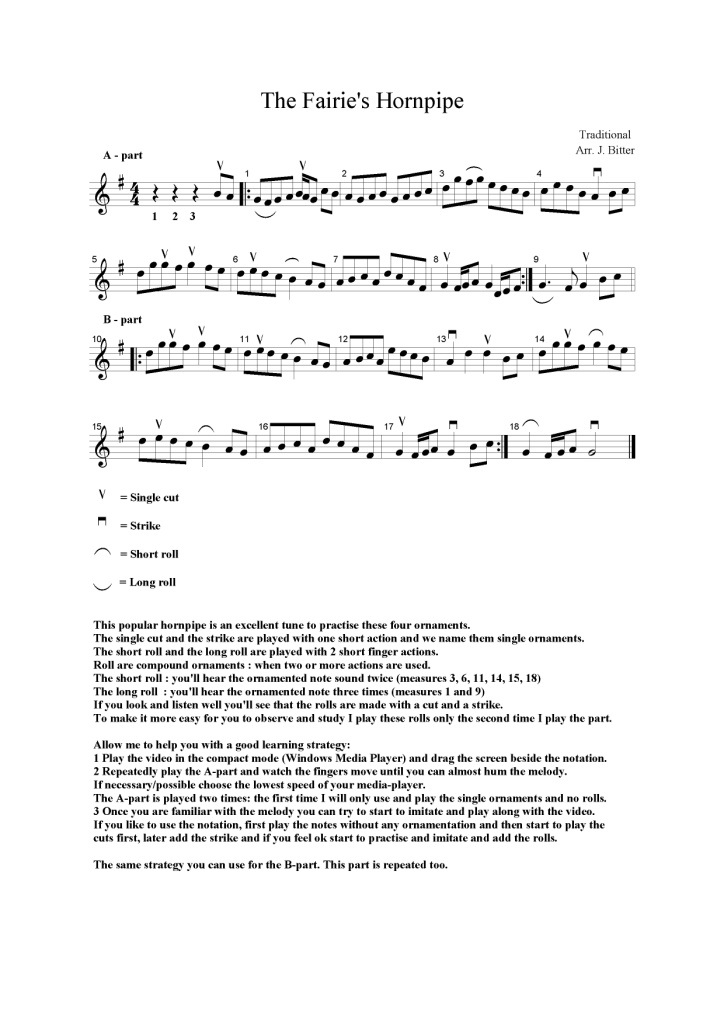 Video 1 : Sonny's Mazurka AA : slow



Video 2 : Sonny's Mazurka BB : slow



Video 3 : Sonny's Mazurka AABB : moderate
Video 1 and 2 represent the notation and its ornaments : you can observe and imitate.
Video 3 is played in a more intuitive way: try to discover the changes.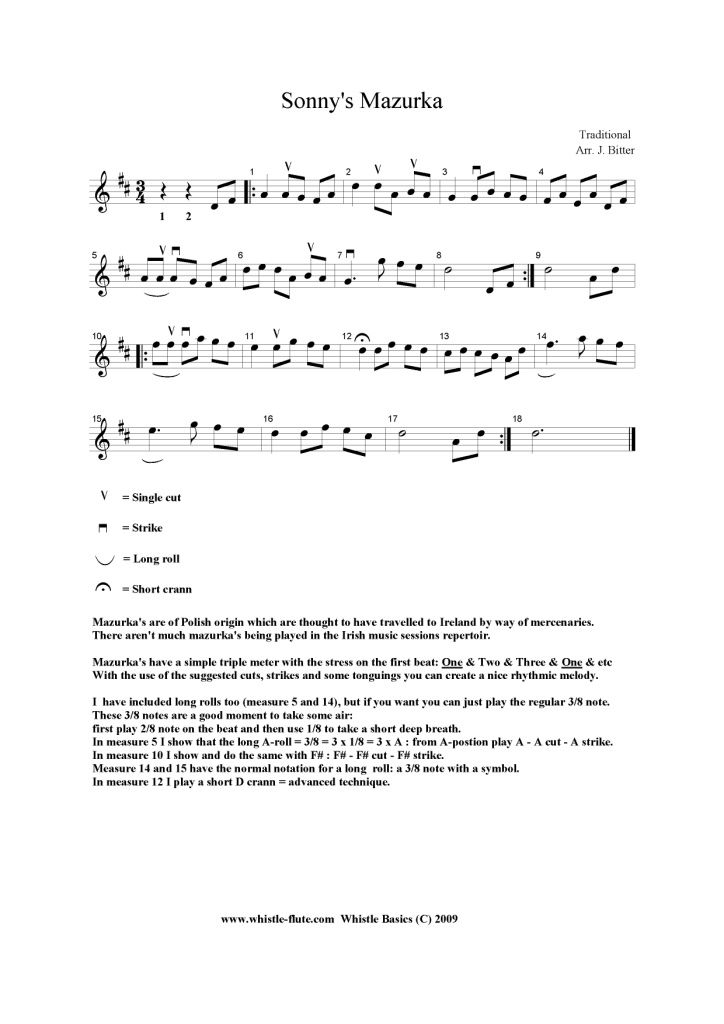 Video : Get up old Woman and shake yourself AABB

This jig can be played fluently with the use of slurring.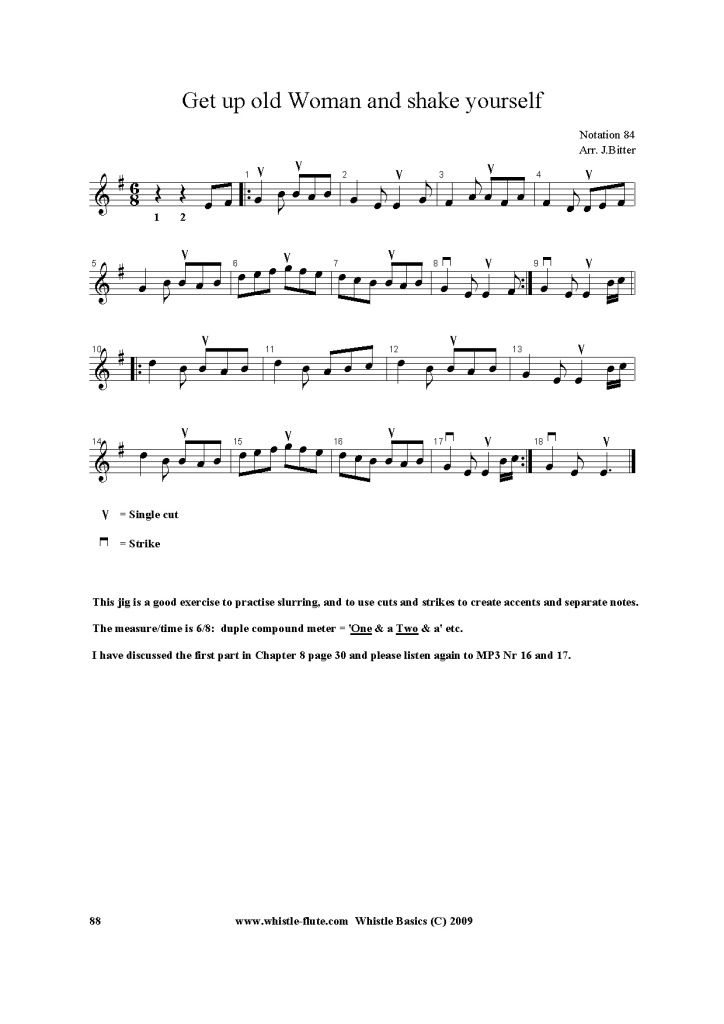 MP3 : Slow version of jig Going to the well for water

I have used a percussion track from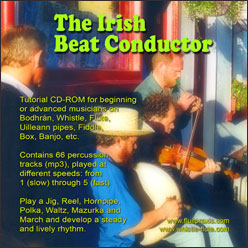 This is a basic notation of this slide from http://www.thesession.org
Try to discover what kind of ornaments I play and where I play them.
If it is still too fast sow down with windows media player.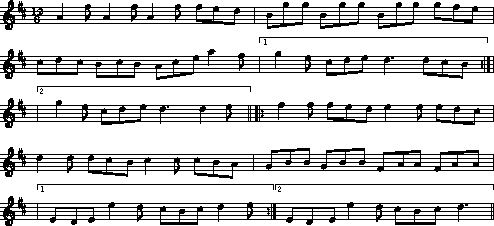 Kitty's Wedding is a nice hornpipe.

Try to play the single cuts and the short roll and maybe you can add some triplets...
Again I have used a percussion-track from the Irish Beat Conductor:

listen and follow the main beat at the beginning of each measure.
The slow and medium versions you hear me play in a metric way: try to play along with these mp3's.
The fast version is played in a more or less free way with so called "dotted notes".
I also play some short D-cranns and a few more triplets and use more tonguing.
If this is like abacadabra to you take a look at my explanation about ornamentation in Irish Trad.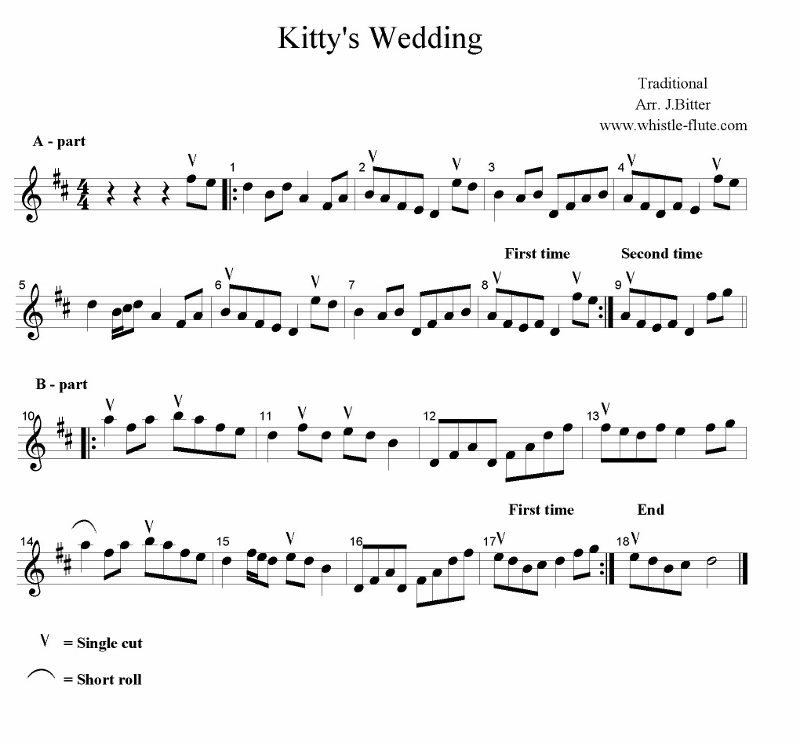 Mp3 A-part slow
All rights reserved � 2010 Jules Bitter