CD The Hill of Women
CD The Hill of Women

A selection of Celtic music and poetry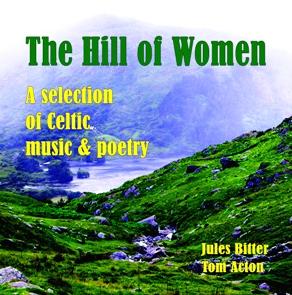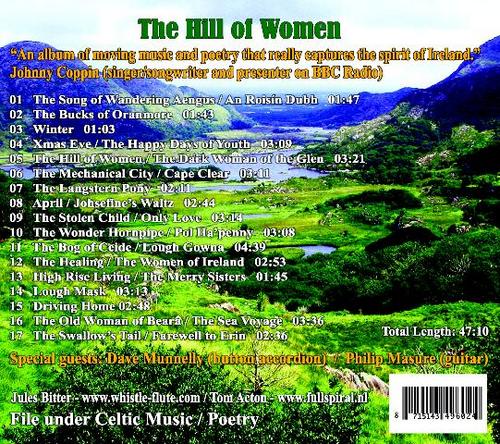 The CD booklet gives detailed info on the music and the poems.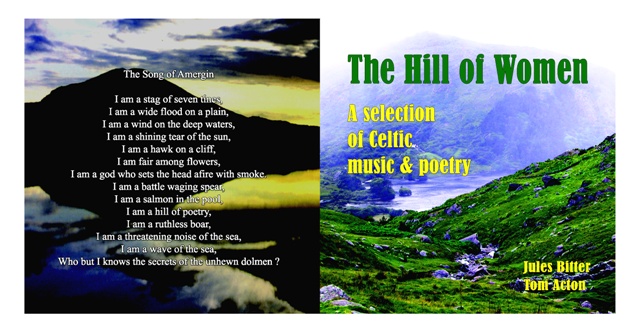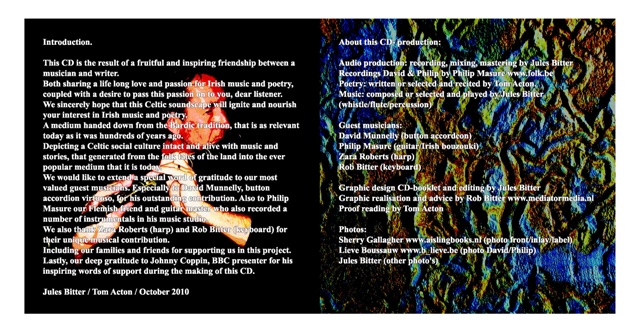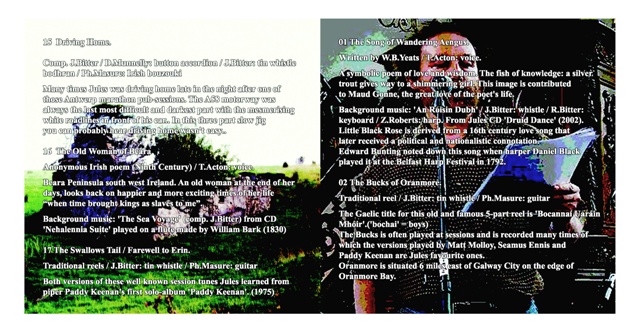 Our special guests are David Munnelly the Irish virtuoso on the button accordion and Philip Masure the Flemisch guitar master.
David recorded and toured with The Chieftains and DeDannan.
http://www.davidmunnelly.com

Philip is a member of Comas, Urban Trad, Fling and some other bands: http://www.folk.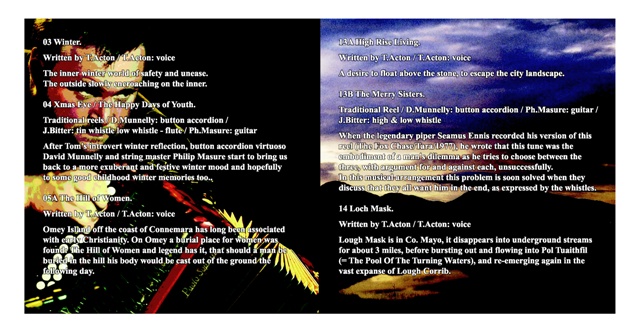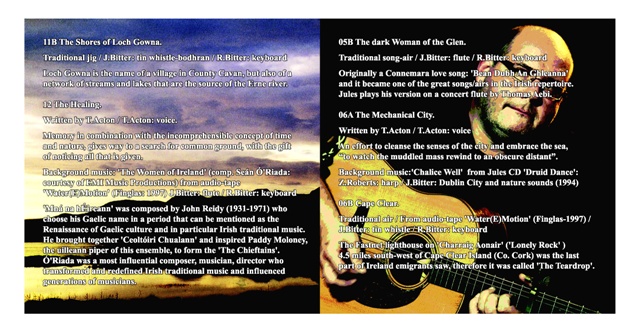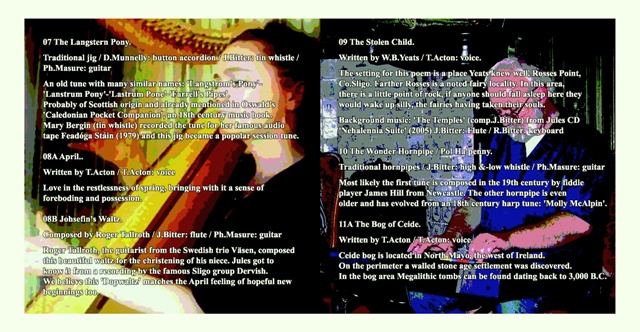 Review by Nicky Rossiter in Irish Music Magazine / Issue No.199 September 2011:
JULES BITTER & TOM ACTON
The Hill of Women
FPCD006 2011
17 tracks 47.10 minutes
Jules Bitter and Tom Acton are based in Holland, where they play the Irish music circuit, Acton is a singer and Bitter a sweet instrumentalist. We are advised to file this CD under Celtic Music/Poetry and it certainly lives up to its classification. I suppose that the poetry CD other than strictly literary offerings are far from common but older readers may recall when the likes of Rod McKuen were regularly on offer.
The opening combination of the Song of Wandering Aengus with Roisin Dubh works very well.
In fact it is probably the better-known poetry like this along with The Stolen Child and The Old Woman of Beara that work best and will probably be the ones that attract the casual listener but Acton's original works should not be skipped over.
The title track is a case in point as his beautiful story is combined with The Dark Woman of the Glen.
For those who may be put off by the idea of poetry from those examination years of rote and repetition you should bear in mind that most of the songs you love are poetry put to music so maybe it's worth giving a few minutes to the offering on here without prejudice.
You will be poetically and pleasantly surprised.
Each poem old or new is lovingly accompanied by Jules Bitter's sweet playing (he's one of the Netherlands top whistle players and great teacher of the feadog stain). This may not be an album that most people would automatically choose from a rack because of the word poetry in the subtitle. Go on take a chance, live dangerously listen to some words without music.


Buy 1 zipfile with 17 MP3s : US $ 10,- € 8,-






Buy CD in a jewel case : US $ 18,-
or buy single MP3s : US $ 0,99

All rights reserved - Jules Bitter - (c) 2010